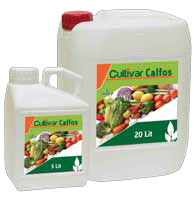 Cultivar Calfos 0-25-0 + 5 CaO + 0,1 B
Formulation
Engrais Liquides
Cultivar Calfos is a special liquid fertilizer containing phosphorus, calcium and boron.
Cultivar Calfos has been specially designed from high quality raw materials to allow the plant to flourish and settle better. Improves fruit quality at the fruit stage.
provides plants with phosphorus and calcium without conflicting interactions. can be used by foliar application and fertigation.